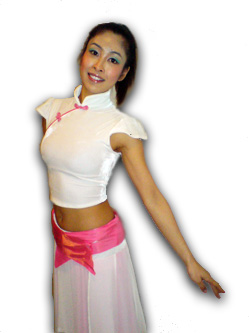 Olivia, Yin Ting Kwong


Choreographer and Dancer of Contemporary and Traditional Chinese Dance.
Artistic Director of S.O.S. Dance Company.
One of the founders of Informal Space.


Born and grow up in Hong Kong. Graduated from the Hong Kong Academy for Performing Arts in 2003, Major in Chinese Dance and Choreography.
Qualified teacher of the Beijing Dance Academy Chinese Dance Graded Examination.
Certified teacher of the Progressing Ballet Technique.
During the time in the HKAPA, she received the Hong Kong Bank Foundation Hong Kong - Mainland Exchange Scholarship in 2001, to have her further studies in the Sichun Dance Academy (China) and cai feng in Sichun (China).
With her journal during the time in Sichun, she received the Gold Medal of the Hong Kong Award for Young People, which has honourably awarded by the 1st and 2nd Chief Executive of the Hong Kong (S.A.R) - Mr. Chee-Hwa Tung (GBM) at the Government House.
In 2003, she received the same scholarship to Sichun again for the 7th Tao Li Bei National Dance Competition (China), and won the 2nd place of Performance (Group) with the choreography of Pik-Yim Yu - "Life?".
She has also represented the Academy to perform several times in Macau, Singapore, Sichun... etc.
After graduated, Olivia joined the Odyssey Dance Theatre (Singapore) in April 2004 as a full time dancer.

She has also participated in the Hong Kong Dance Company as a project dancer, including the performances of:
In 2006, "Red Poppies", by one of the national levelled choreographer in China - Ling-Li Liu.
In 2007, she followed the company to tour in China, including the performances of:
"Red Poppies" in the 8th China Art Festival in Wuhan, and
"Qing Ming Riverside" in Hanzhou, Nanjing and the 5th Beijing International Dance Festival in Beijing.

In 2003, with Simona Chan, Ho-Ting Chan, Peggy Chu and Cecilia Tang, they formed and registered a dance group "Informal Space" in Hong Kong, and were invited to perform their choreography, "Qi Cui Gu Dong - Korean Long Drum Dance" in the Hong Kong Dance Awards 2005.

In 2008, she created her own dance company "S.O.S. (Space of Olivia's Style) Dance Company", and has successfully performed in several events and dance festivals in Italy (Milan, Bologna, Rieti, Jesolo, Bicocca... etc).
On 08 June 2010, this company has successfully registered as a society in Hong Kong, known as "S.O.S. Dance".

By her special way in choreographing Contemporary Chinese Dance, Olivia represented "Enemy" and won her first Choreography Award (her students won the Honours Award of Performance - Contemporary dance section) in the 40th Hong Kong School Dance Festival.
With another of her wonderful choreography "Because of … YOU - Painting", she won the 1st place of choreography in the 18th International Dance Competition (Rieti Dance Festival 2008), Italy.
In 2010, Olivia was invited to perform and give a Chinese Dance Workshop in the Venice Oriental Dance Convention 2010.

With a great honour, Scuola di Danza Schininà – Vecchi (directed by former principal dancers of Teatro San Carlo - Naples, Italy) has invited her to be one of the juries for their school's final exam in June 2010.

She has also choreographed for the play "An Angel in the Slums" (and as a main actress), which has successfully performed in Rome and New York for the International Arts Festival on Spirituality (Divinamente Roma & New York 2011).

Recently, Olivia has choreographed and performed in the "Meet Design Show", which has successfully performed in the Beijing Design Fair 2012.

She is now working as a freelance choreographer, dancer, improviser & dance teacher.



(About the detailed Curriculum Vitae of Olivia, please visit: Memories)